Implementing Best Practices for the Characterization of Critical Reagents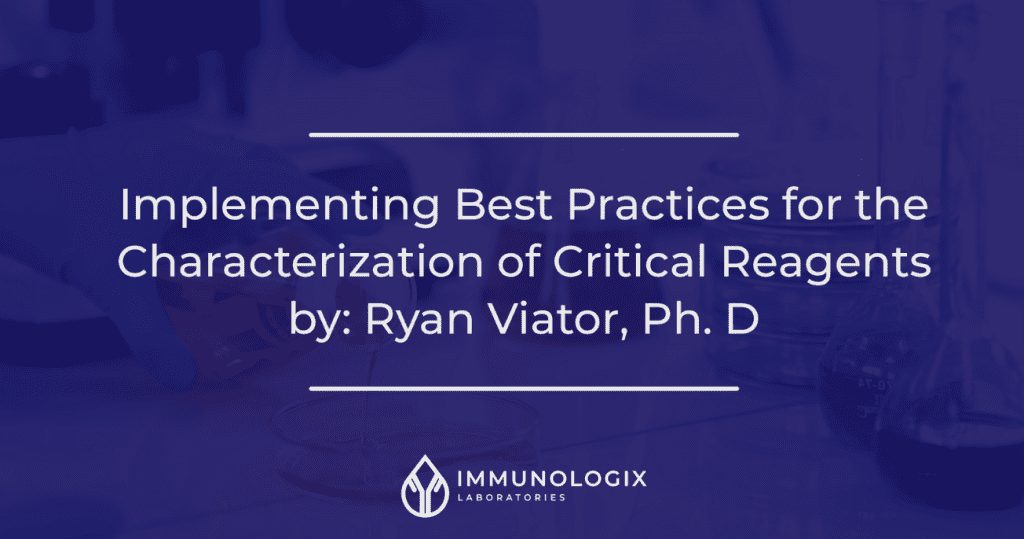 Years of bioanalytical assay development have established that the quality, consistency, and specificity of assay results depend largely on the critical reagents selected for development.  Today, there is no guidance for the proper characterization of, testing requirements for, or the allowable batch variability in reagents used to support clinical studies.  Because there is no regulatory guidance, it is imperative that the biochemical and functional attributes of critical reagents are well understood to ensure consistent results and assay performance throughout the life of the program. Generally, when a component has a direct impact on the assay's performance, it should be defined as a critical reagent.  As suggested in the 2018 Guidance for Industry, Bioanalytical Method Validation, the FDA describes critical reagents as reference standards, antibodies, labeled analytes and matrices with defined storage conditions.  Others have suggested that cell lines, recombinant proteins, peptides, polysaccharides, and nucleotides should also be considered in this reagent class.
Benefits of Critical Reagent Characterization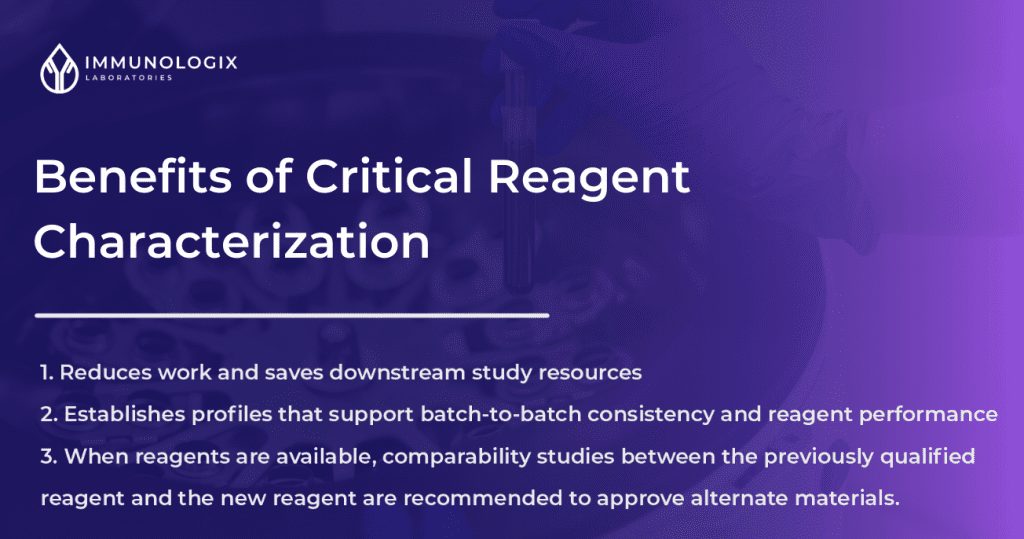 Scientifically driven reagent characterization ultimately reduces work and saves downstream study resources by ensuring consistent and reliable data. Some biochemical or biophysical attributes that should be understood when selecting critical reagents for assay development include binding affinities, post-translational modifications, purity, pI, and stability. These characteristics establish profiles that support batch-to-batch consistency and reagent performance when alternative lots are needed during a study. When reagents are available, comparability studies between the previously qualified reagent and the new reagent are recommended. Comparability studies should use side-by-side comparison and original run acceptance criteria to approve alternate materials. Conversely, stringent performance assessments and run acceptance are not suggested for non-critical reagents used in assays.
Critical Reagent Services and Strategies
To support program goals, rugged assay establishment may require a variety of critical reagent services.
Routinely, biotin and ruthenium or SULFO-TAG™ labels are conjugated to the molecules via an NHS-ester functional group for ease and consistency in labeling primary amines (usually external lysine residues or N-termini).
To support robust ligand binding, immunogenicity, and pharmacodynamic or biomarker assay development, customized characterization tiers are additional considerations.
These include pilot scale labeling events where optimal conjugation conditions are empirically determined before large-scale labeling events occur.
This guarantees that only optimal reagents are chosen for assay development. Higher labeling service tiers include further characterization such as purity by size-exclusion chromatography and degree of labeling using traditional HABA assays for biotinylated proteins or absorbance for ruthenylated proteins. Additionally, binding affinity can be measured to ensure that reagent binding remains unaffected by conjugation or to identify optimal assay conditions before assay development.
Of course, the final component to characterization is always assay performance. Subsequently, these highly characterized reagents are used to develop and validate assays on an ultra-sensitive detection platform by electrochemiluminescence or in more traditional ELISA.
Across today's drug development landscape, there is a wide variety of molecule and therapy modalities, laboratory platforms, and process systems established for these critical reagent procedures. In order to establish baseline best practices and recommendations for supply, characterization, and life cycle management of ligand-binding assay reagents, the Global Bioanalysis Consortium harmonization team provided an outline to industry (O'Hara et al. 2012). Assessing specificity, sensitivity, and reproducibility was a main focus of the critical reagent characterization recommendations.
The Main Takeaway
Overall, the most important takeaway is that early scientifically driven understanding of quality-indicating critical reagent attributes has the potential to save precious time, money, and personnel resources in any new drug program.
For more information on the full expert capabilities in reagent services and characterization available to you when partnering with Immunologix Laboratories, you can find our fact sheet here.
Author Bio:
Ryan Viator, PhD – Laboratory Manager, Immunologix Laboratories. Dr. Viator oversees and leads the dedicated Critical Reagents Services team here at Immunologix Laboratories. Building on his over 20 years of practical laboratory experience and 10 years of team leadership, Dr. Viator and his team continue to ensure excellence and innovation critical to supporting our client's assay programs.
EGregos@immunologixlabs.com
EGregos@immunologixlabs.com